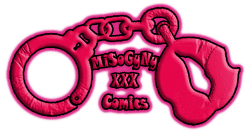 The year was – I guess – 2002 and by the time I was 11 or 12. By my parents' mistake, I went to bed late one Saturday night only to casually watch, on one of those alternative TV Channels, the first episode of one hentai anime series called Dragon Pink. It was the first time I watched these two worlds combined: the world of naive cartoons and the world of nasty porn.
Later in that same episode, another surprise came: a scene of a harem of naked girls kidnapped, chained, and kept as sex slaves by the episode's villain. Even before that night, and for a long time since I can remember I dreamed of tied or chained girls – the damsel in distress situations on mainstream cartoons, films or telenovelas were my favorites and by this time the world seemed to be rewarding me with those same damsels, now all naked, and being sexually used.
Not in my wildest wet dreams of that time have I portrayed such a situation; in that moment I had it before my eyes.
I started sleeping late on Saturdays and later I found other similar series. The first one was called Angel of Darkness: it consisted of a plot where college girls were being kidnapped and held captive in a basement, while constantly raped either by a scientist-turned-monster or some lascivious plants with tentacles, among other aberrations. The second series was (as I later rediscovered) School of Darkness: it told the story of a group of students with their teachers on a school trip getting lost and – imagine – the girls being raped (and this time also killed) by their female teacher-turned-lascivious-plant-monster. I might have gotten traumatized by this content (I was 11 or 12 by that time) but also it changed my perception of porn forever.
Not late after that I was searching on the internet for more of those stories and rapidly I came across other similar media: the first western author I discovered was Gary Roberts and I remembered having a diskette with some free examples from his works such as Abducted Sisters, The Abducters (later The Dungeon Next Door) as well as his alien sketches and other, I guess unused works.
Back then, the internet was full of disgraceful imagery against women in paid sites such as "Scream And Cream", "Brutal Violence", "Violent Russians", "Punished Teens", "Severe Games", "Fetish Oasis" (this one still exists) and so much much more. Some of these sites or the free TGPs around promoting them even claimed to be showing "illegal" and "real" imagery of… well, women being raped, without even a footnote or a disclaimer page unrevealing this info as fake.
They were different times back then… the word "lolita" was still the most common to portray – supposedly, but not in story context – underaged girls or even young adult women. As we discovered later, some of them, weren't just underaged in the fictional realm, but also in the real as well. Girls being fucked by dogs or horses were a daily find on the web and if you scratched the bottom as I did: well, I have in my mind the image of a tied blonde russian milf doing a blowjob to a ten-year-old kid. Did I just dream about it!? I guess not! The internet was wild back then and very unregulated!
Fortunately, in some ways, things are very different right now!!! We condone child abuse of any sort.
With all this, it wasn't late before I discovered sites or forced sex comic collections such as Quoom, DrawingPalace, and of course… Fansadox Collection. Firstly I only had the free samples, then for years I informally downloaded them from sites or applications such as E-mule and later Pirate Bay, and finally then… well, now I'm making this tribute site.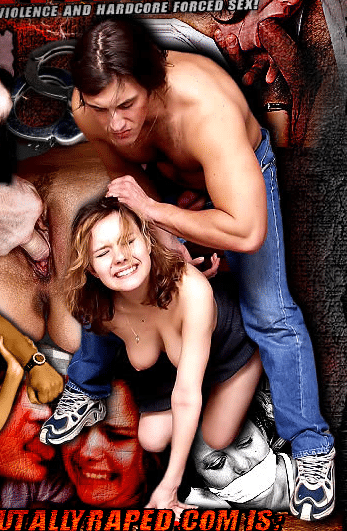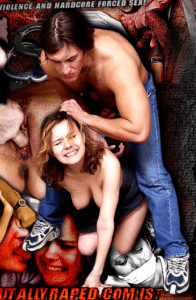 This is not a Bondage or BDSM site!!!
No. The site is called Misogyny Comics and its goal is to show situations in imagery, normally comics, in which at least some female characters are exposed to some sort of abuse situations: either by being kidnapped and held captive, enslaved, being raped/ forced to have sex, fucked by aliens or monsters, subjected to torture or humiliation of any kind or form or in some cases even killed – presumably in mild cases, but sometimes even graphically mentioned or depicted.
For the word "women", we're referring to biological females, so shemales are out of the question… and of our collection. The same thing for stories portraying consensual BDSM between two characters (for example husband and wife or a lesbian couple), where no kind of abuse is implicit, are also excluded from this collection.
But of course, by being a trendy subject nowadays you still may find some shemale characters among these pages. Anyways for a story to be published here at least one of the portrayed victims must be a biological woman containing her vulva. If you see any content that doesn't match this criterion, was probably wrongly published and we ask you to contact us. There are also cases where we see women tied with no background context of if they consented or not to be in that situation. Depending on these images, unless we see clear indicators that the woman is not being abused in any form, we publish that content as well and we are very liberal regarding this subject, especially if the images are visually stunning.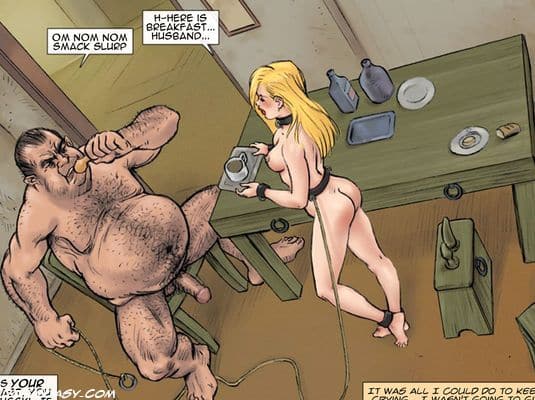 Do we agree and encourage such situations in real life?
Of course not. It's fiction, not reality. It's called escapism: we get aroused by something we cannot do morally or legally in the real world. I'll give you an example: I've played GTA games since the year 2000 as well as millions of other kids not just back then, but also nowadays. Grand Theft Auto is among the most successful gaming franchises of all time, being played by millions of people for the last twenty-plus years, and we probably all know that the plot consists of controlling a criminal and doing criminal stuff like selling drugs or executing robberies. Do all of the people who played these games find such activities acceptable in the real world? I haven't seen any statistics on that but from my experience, I would say: of course not – It's just a game! The same thing happens here: they are just comic stories! No real women were harmed in any form for making them.
Also, why did I use GTA games in this example? Well, I was playing GTA 3 (and later Vice City) when I discovered Misogyny Porn in the long-gone year of 2002. That was pretty much what I did back then: I played GTA and watched violent porn, that's why.